Heating Up the Burners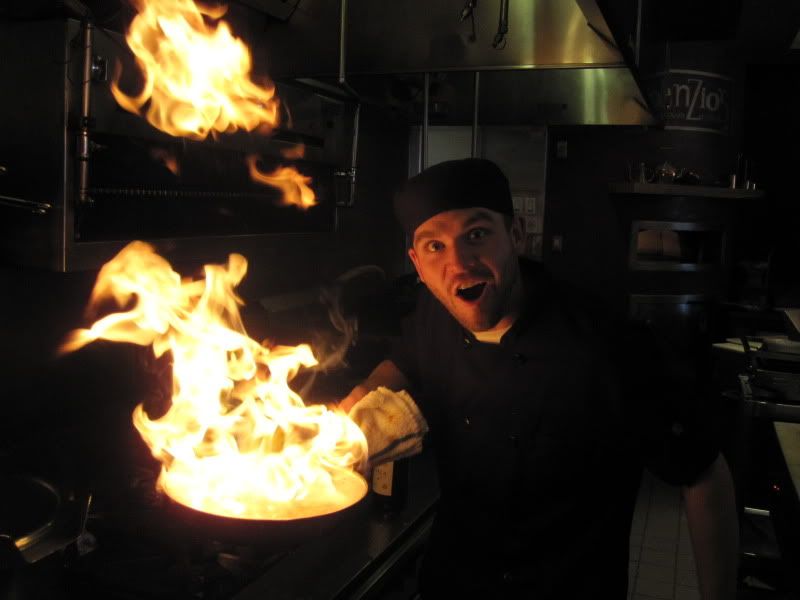 This year's Battle of the Burners is definitely going to showcase talent and competitive spirit. While Enzio's is no stranger to – ahem – friendly inter-company competition, its kitchen manager, Colin Papworth, was away when his culinary cohorts dueled with their Hot Corner Concepts sister restaurants (www.austinsamericangrill.com) and won bragging rights. Now Colin wants his own taste of rattling pans and recounting gastronomic glory. When the opportunity to compete with five other local kitchen wizards presented itself, he was in.
I wondered what unique strengths Colin might bring to the occasion, so we took a look at his numerology and astrology. This guy has creativity galore. Nobody will ever accuse Colin of having a small imagination. Easily capable of flipping with one hand while whisking with the other, his entry will most certainly combine layers of interest and flavors. And, he'll be able to effortlessly adapt and change as the situation demands.
Add to that his experience growing up around his parent's eatery, and you have the makings for some exceptional cuisine.
Colin's natural ability to multi-task has produced artistic dinners with wine parings, delicious on the spot accommodation of dietary requests, and a talent for seeing it all in perspective. Culinary skills aren't the only thing he's been honing. That competitive spark of his has been dropping into a poetry slam here and there, too.
You know how that goes: creativity in one area amps it up in another.
Want a sample? Drop by Enzio's to enjoy Colin's Homegrown Downtown Tasting Tour offering of locally sourced food (maybe you'll get lucky and hear a poem, too!). Try as many of the mouth-watering offerings as you can, for that matter. With 18 restaurants participating, there's a lot to taste.
And get your tickets for the Battle of the Burner on September 25. You won't want to miss it!
One Response to 'Heating Up The Burners'
Leave a Reply