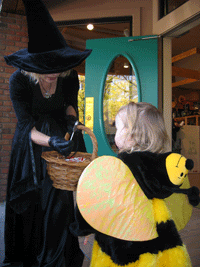 Remember back in the day when Halloween used to be just one day of celebration, where you grabbed your pillowcase for a bag and ran miles around the neighborhood collecting enough sugar to kill a horse?  My, how times have changed.  Now, Halloween is almost a month-long celebration where kids can go trick-or-treating a few nights in the month, collecting enough candy to kill and elephant.
As a mom, Halloween is one of my favorite holidays with my boys, and it helps that I get to sneak a few pieces of chocolate here and there as well as oogling over their cute costumes.  With Fort Collins being so family-friendly, there are a multitude of trick-or-treating events for the kids.  Here are a couple of our favorites!
Trick-or-treating at strangers houses used to be a non-issue when we were kids, but now, it's kind of a safety hazard.  Events like Treatsylvania provide a safe environment for the kids and a fun one for the smaller ones who scare easily.  On October 22-24th, The Farm is ready for little scarecrows and pumpkins to take over.  In a "not-so-spooky" haunted house maze, local businesses set up booths with doors for the kids to knock on.  In the middle of this trick-or-treating spree is a hayride for all to enjoy.  It's great fun for everyone, including the volunteers handing out candy!
Tickets to Treatsylvania are $5 for children, adults are free! Event hours are 6:00-8:00 PM on Friday (October 22) and Saturday (October 23) and Sunday (October 24) at 1:00-3:00 PM and 5:30-7:00 PM. Tickets are limited and must be purchased in advance.
Treatsylvania tickets go on sale October 1 at The Farm (600 N. Sherwood) during open hours or at Northside Aztlan Community Center (112 E. Willow Street) and EPIC (1801 Riverside Ave.) between 8:00 AM and 5:00 PM. You must purchase a ticket for each child. Tickets are sold for a specific half-hour time slots. Children must be accompanied by an adult.
For more information about Treatsylvania or to inquire about the availability of tickets, call 970.221.6665.
This is the biggest Halloween event in Fort Collins for the kids.  Thousands of kids meet in Old Town square to go trick-or-treating at local businesses.  It begins at 10am, so make sure to bundle up and grab a coffee at one of the local coffee houses to stay warm on your walk around Old Town.  This event is on Friday the 29th at 10am when school-aged kids are in class, so it's perfect for the toddlers, where they won't get trampled by excited and eager older kids and they won't be up past their bed-time.
After collecting as much candy as their little hands can carry, there is a "Monster Mash" party at the Sunset Event Center on Linden.  As if the candy wasn't enough, there will be cookies and hot chocolate to fuel a fun dance party!
Whatever your spooky Halloween plans may entail, you'll be sure to have a blast celebrating in Fort Collins!
Leave a Reply