Archive for the 'art' tag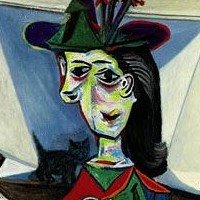 We live in a culture that is very familiar with traditional "art." Almost anyone can spot a famous Picasso, and we are aware of the fact Leonardo da Vinci was a Renaissance painter. The general appreciation for artists such as these is obviously well deserved, and the continual interest in the arts is clear in popular culture, like movies and books. But how do we go about thinking of non-traditional modes of art? And how often do we stop and think about our present world, and what art has to say about it?
Take the example of posters. The term probably conjures images of advertisements for bands, or celebrities plastered all over dorm room walls. But posters can serve many different functions, including art and social advocacy. After all, the person who sits down to design that art cares about what goes on that poster. I wonder if we took time to examine the work of poster art, we would be amazed to hear what some posters are trying to "say."
This is the idea behind the 16th Biennial Colorado International Invitational Poster Exhibition, on display at the CSU University Center for the Arts, with satellite exhibits around town, through December 22. The event, hosted by the Art department at the CSU School of the Arts, displays poster designs from 82 artists from 28 different countries. Showcasing examples of visual communication to an American audience and promoting international understanding through graphic arts, this exhibition is the only one of its kind in the U.S., and it is here at CSU for us to experience.
These poster artists are not simply promoting events or asking you to hire them to fix your computer.  They are advocating for issues from across the globe. As viewers, we have the chance to see what is really going on in the world through visual and graphic interpretation. The honor laureate this year, Majid Abassi, for example, expands our global awareness through the solo exhibition, Persian Variations: An Exhibition of Majid Abbasi's Book Covers & Poster Designs. Abassi is the first honor laureate from Iran, and he offers his audience a unique view into his Iranian culture.
Lenny Frickman, director of the University Art Museum at Colorado State University, remarked, "The visual ingenuity displayed in the posters is extraordinary as artists take on a number of issues, and come up with myriad visual solutions that are quite astounding in their impact." And this impact is certainly strong. In a digital age, these posters are a great medium to get a message out. Our vision-centered minds can easily find meaning in an image, and our experience with computers makes digital art more effective than it has ever been.
We all love to look at great art. While we are used to appreciating art, even possibly finding meaning in it, this exhibit show us that there is an entire world of social and cultural issues that we may be unaware of. Not only do we have a chance to expand our view of art, but of the entire world as well. 
Satellite displays, featuring specific historical and geographic subjects, will be hosted at:
Fort Collins Museum of Contemporary Art
Loveland Museum and Gallery
First National Bank Gallery at Colorado State's Morgan Library
Clara Hatton Gallery
Directions and Glass galleries in the Visual Arts Building
Curfman Gallery at the Lory Student Center
To view an online gallery of posters from the CIIP since 1991, visit http://lib.colostate.edu/posters/gallery.html.
Last week, I wrote about creative economy, and although there's a lot more to say and think about, today, I'm wondering about the products that make up the creative economy.  The United Kingdom's Department of Culture, Media and Sport defines creative industries as, "those activities which have their origin in individual creativity, skill and talent and which have a potential for wealth and job creation through the generation and exploitation of intellectual property."  While a creative product may exist as a physical entity (think paper, film, computer disk…), its value is in its meaning and what it represents—its content.  The content/information of a creative product is boundless, but that content/information defines its value. Creativeclusters.org offers a good example, "Even with a designer T-shirt or a piece of [jewelry], it's the style, the design that counts, not the cloth or the metal."
This past weekend, on the Lower East side, New York, several artists and community organizations opened an exhibition, that puts this concept to the test.  HomeBase IV, is an exhibition in a vacant medical clinic.  This is not an exhibition of art created somewhere else and then transported into a pristine, neutral gallery for contemplation.  A lot of what you can see in HomeBase IV, was created from materials found in the existing space.  The creative product, the process, the content, and the experience of visiting the site give the project value.
"'When we arrived, it had nothing in it,' said Leor Grady, the curatorial and programming director of the project.  'It smelled like a combination of mildew, chemicals, medical waste and sheet rock.'  Even after a cleaning, the worn peachy-beige walls, industrial carpeting and fluorescent lighting retain a sterility that serves as a palette for the sometimes unsettling works."
A variety of artists collaborated to explore the notion of "home," in this specific space (unused clinic) and to engage the residents of a changing neighborhood.  This means that the artists met together, talked, read, and interacted with the public to determine what would happen in the space, as well as worked to design what a visitor can see.  (See images) All at once, the meaning for the project/
action is in the process and its space–the product becomes spatial, as it connects people, place, and time.  Gone is the presumption that art=object, or that art can only exist isolated from community in a building labeled as gallery or museum.  As reported in the New York Times, one of the artists, Paul Sepuya, a Brooklyn photographer of Ugandan descent eloquently describes his reality and makes his experience tangible.  "I thought it would be interesting to apply the idea of home as spatial," he says. "When you're not at home, it's constructed by your family's stories."  His contribution to the exhibition includes portraits of friends and neighbors who like him, have some association with Uganda—a "home" that Sepuya has never visited!  Another artist, Dafna Shalom took photos of men in the neighborhood who reminded her of her father — a hand here, a hairstyle there.  Our realities are often constructed through small gestures that we don't notice, but become intriguing when we stop and think.  If a smelly, unused, and dingy health clinic in New York, can be reinvented as a site for building community and thinking about the meaning of "home," what are we overlooking?
Creative economy is driven by creative industry.  Products are reorganized from seeming non-existence, although the ideas and materials may already have been there.  Ideas are what transforms materials and what can transform people, neighborhoods, cities, and towns!  There are lots of creative spaces and events that promote thinking in and about Fort Collins.  This week we can think about caring for each other by simply eating out to help United Way of Larimer County.  Later in the week, think about places that used to be here but only exist as fading away signs painted on buildings in Old Town, or join others to think about an area of Fort Collins that will grow in the future.  You can contemplate exhibitions about Dreams, Floating Worlds, and art made by senior citizens.  Perhaps you'll ride the trolley and think about public transport, or learn more about the public art that helps create a sense of place in our city.  All the details are at www.visitfortcollins.com!
The whole world is a museum without walls!
Thanks for the photographs No Trams To Lime Street, MacRonin47, and hoggardb.
Deborah Lombard
"the Creative Economy at its best, is about communities taking responsibility for their condition and creating meaningful work and a viable economy with the most powerful resources at their disposal. These include the distinct nature and culture of their place, and the creativity of the people — all the while welcoming and learning from those who pass through or who decide to stay" (Tom Borrup, 2009).

When we say someone or something is creative, what do we mean? Imaginative? Innovative? Inventive? Artistic? Fantastic?

Now imagine these adjectives combined with the word 'economy' (meaning management of the house)….imaginative economy, inventive economy, artistic economy, fantastic economy…. getting the idea?
The term and phenomenon of the "creative economy" describes industries that have their origin in individual creativity, skill and talent, and have a potential for wealth and job creation through the generation of ideas, products and/or services. These industries and activities are critical not only because of their contribution to the knowledge economy which is in the process of engulfing the globe, but also because of their capacity for urban and civic regeneration, the preservation of cultural heritage and cultural identity and the creation of places and communities as 'destinations'. Tom Borrup consults, teaches, and writes about community transformation, cultural infrastructure, and the creative economy. He believes that the creative economy grounds itself in an active community of artists, an eternal and constant spring of respect for indigenous/multiple cultures, and finally and most importantly, cultural and economic equity.
In their recent report on the state of the arts in Colorado, the Colorado Council on the Arts issued some
surprising statements on the nature of the creative economy in our communities. Indeed, it seems that Colorado is actually quite a creative state, ranking 5th nationally in terms of the concentration of artists overall; 2nd in concentration of architects, 7th in concentration of writers, designers, entertainers and performers, and 8th in concentration of photographers. Interestingly only New York, California, Massachusetts and Vermont rank higher. Here in the Northwest of Colorado, we grow arts and music festivals, visual artists hang down in the Southwest corner where the red rocks, white snow, and green pines blind us with their beauty and the literati hang in the center of the state, inspired by the clear air of the mountains and lakes.
These creative activities, industries, communities and populations are sustained through their emotional and aesthetic appeal to others as they engage in work which is inherently creative and artistic. Why is such work meaningful? Because long before we were literate, art and our artistic endeavors formed the base of a universal language and a dominant form of communicating place, identity, purpose and membership. Tom Borrup believes that creative economies and communities hold onto the distinctiveness of place, remain open to learning and reinvention and accept new ideas from unlikely places, forming common and strong bonds between those involved in local cultural practices and the economic livelihood of their communities. Drawing from the Houston based Project Row Houses, Borrup proposes that in creative communities and economies, art and creativity are woven into the very fabric of life through rituals, ceremony and other utilitarian activities; quality education and strong neighborhoods sustain social safety nets for the community and facilitate social responsibility; economic development is essential for all residents both present and future and architecture as a social practice, should make sense of and preserve a community's character.
So, make 2009 your year to raise the arts and creative life of your community – check out our website to see and experience the extraordinary offerings here for you – see a show, hear a speaker, go to a festival, and bring your friends!
With thanks to Amanda Woodward and *Sally M* for their fantastic art!
Kirsten Broadfoot