Archive for the 'arts and culture' tag
This past weekend, Streetmosphere welcomed Curious Gage to Old Town Square. Curious Gage is an a cappella group that puts a spin on popular instrumental band pieces. Being an a cappella group, Curious Gage only uses sounds that can be made with the voice. They sing – obviously! – but also use different techniques that one wouldn't normally think could be in a vocal performance.
This past weekend, the streets were filled with artists, dancers, and musicians, all bringing new sights and sounds to Downtown. They were not, however, the only performers out for the afternoon. Children and adults, those big and small, came out with their dancing shoes on!
The group Viewsic, a piano, drum, and painter trio who work together to create both a visual and auditory experience, drew community members of all ages. While the drummer and pianist played classic favorites, they had their image captured in an imaginative new scene of paints and pastels. Bringing Old Town Square to life, more than one curious bystander felt compelled to stop.
It was more than just standing and watching, however. One little boy could not contain himself as he ran, twirled, jumped and danced to the sounds, while another child stomped his feet. A little girl was fascinated by the painting coming to life before her eyes, and couples sang along with the songs they knew. What a great thing to see, a whole community brought together, participating and sharing, celebrating the arts here in Fort Collins!
Make sure you come out, and see what surprises are in store!  There are no performances next weekend (May 25-27, 2012), but Streetmopshere returns June 1!
Beet Street's second weekend of Streetmosphere performances brought people to the street and dancing to their feet in Old Town Fort Collins.
The Central Rockies Old Time Music Association, also known as C.R.O.M.A., played in Oak Street Plaza Saturday evening. With their tent nestled neatly to the side, the group left plenty of room for dancing in the plaza.
The members of C.R.O.M.A. describe themselves as just a couple of friends playing music together. On Saturday, the music of the group's three fiddles, two banjos, guitar, and cello attracted audiences of all ages to the square. The musicians all tapped their feet in synchronization to the music and to each other, and one of the banjo players occasionally took the stage to do some tap dancing of her own. She invited the audience to join in on all of the foot tapping, and soon enough the plaza was filled with people line dancing and clapping along to the music.
This past weekend, Downtown was full of music, art, and dance, with the arrival of our Streetmosphere performers! The community also felt the need to be out in the sun, and many people stopped to have a look or a listen. In particular, they stopped to dance! On Saturday, the wonderful group Dance Express lead the charge, pictured here with some of their props. Moving with the music, their joy and dedication spread out towards Old Town Square, where children took to the piano and drum sounds of Viewsic, dancing across the plaza, jumping and twirling, some even singing along. Other groups inspired the dancing of an older generation, who, though they knew more steps than the youngsters, had just as much fun! So, please, make sure you get out this weekend, and come join us for a dance!
People filled the streets of Old Town this weekend, taking in the various acts that Streemosphere had to offer. The second week of the festival was a successful one, complete with sunshine that brought in swarms of people stopping to witness the action.
On Friday, Staci Tomazewski and her marimba were a definite crowd pleaser. People lined the sidewalk on the corner of Mountain and College to listen to her play, a few kids even joined in and learned a thing or two. Staci's set created a laidback atmosphere that the audience could not help but respond to. The unique sounds and look of the marimba caused even those passing by to turn their heads, completely enthralled by the performance.
Do you use an online search engine?  If so, you could be raising money for Beet Street while you search for gifts during this holiday season.  In these tough times cutbacks are a necessity.  Beet Street understands that and has found a way for anyone who uses the computer to support them without giving a dime. 
Here's a new easy way to raise money for Beet Street. Just start using Yahoo! powered GoodSearch.com as your search engine and they'll donate about a penny to Beet Street every time you do a search!
In addition, do all of your shopping through their online shopping mall, GoodShop.com, where you can shop at more than 900 top online retailers and a percentage of your purchases will go to Beet Street. You pay the same price as you normally would, but a donation goes to your cause!
So help support Fort Collins arts and culture by using GoodSearchinstead of Google.  All donations go toward making our city a regionally recognized quality arts and culture destination.  Here's the web site — http://www.goodsearch.com. You can also read about GoodSearch in the NY Times, Oprah Magazine, CNN, ABC News and the Wall Street Journal.
Will you use GoodSearch instead of Google?  Let us know if you think this is a good fundraising opportunity, or tell us what fundraising resource tools you have used.
Attention Battle of the Burners contestants One through Five: meet Number Six.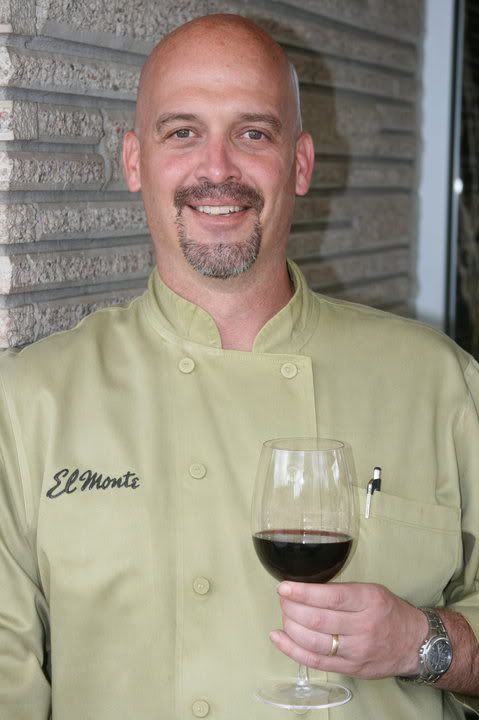 He won last year in the categories of Best Flavor and Most Creative Use of Ingredients. TripAdvisor reviews rate his restaurant #1 out of 266 area restaurants. He has 20 years experience in the kitchen, relishes a good competition and will be bringing his passion for exquisite flavor to this Saturday's Battle of the Burners. His advice to the other contenders? Bring Your Game.
I met Executive Chef Scott Manning at El Monte Grill and Lounge (www.elmontegrill.com). Talk about inspired cuisine and vision – his enthusiasm for food and sustainability is palpable. His numerology and astrology imbue him with superb instincts.
Scott's culinary concept is to create fresh, Latin-inspired dishes based on familiar classics. For example, his slow roasted pork entree evokes Tacos al Pastor, a common street food in Morelos, Mexico. His kitchen motto, "first, do no harm", demands the highest quality ingredients. No over-processing here; just showcasing foods as they are meant to be. He proudly serves locally sourced fare, describing a visit to Grant Farms (www.grantfarms.com) and his admiration of their methods.
Scott's own methods focus on sustainability. El Monte is 100% wind powered, recycles oil for bio-diesel fuel, composts, and recycles. It's one of only a few Colorado restaurants certified by the Marine Stewardship Council, acknowledging support of sustainable fisheries. Scott believes his practices make a difference and that the future will include more businesses doing similar things.
I can't talk about El Monte without mentioning its bar. As a big fan of Mad Men, I'm cheering its 50's era theme and artful mixology that incorporates fresh juices and herbs.
Oh, and one last note. Scott carves his own ice sculptures, too.
Bring your game.
Allow me to introduce myself. My name is Tanya, and I recently moved to Fort Collins from Chicago where I participated in the rat race for 11 years. Chicago is an amazing place to live – a vibrant arts community, a stunning lakefront, a seemingly endless number of local watering holes and at least one good baseball team (no, not The Cubs!).
However, there are also some downsides – digging your car into and out of parking spots in the winter; pretending you don't see the alley bunnies (a.k.a. the rats); arguably some of the most corrupt politicians in the country; and the constant blare of taxi drivers' horns if you don't hit the gas the moment a light turns green.
Even in a place like Chicago, where the entertainment possibilities seem endless, after 11 years, you get a little complacent. You start to trade the free nights at the Art Institute for your Pjs, a pizza and the train wreck that is The Bachelor.
Moving to Fort Collins has been a dream. All of the hiking and biking, the local arts scene, and the moderate weather has put a sparkle in my eye. I'm like a recent college grad who is over-the-top eager for his or her first day in the real world, naively forgetting winter, spring and summer breaks are a thing of the past. I have enthusiastically embraced all Fort Collins has to offer… but recognize eventually the "newness" may wear off.
I approached the folks at Beet Street about contributing to this blog to chronicle my experience of uncovering the culture and becoming part of the community in Fort Collins. Part of this is selfish, because I know it will constantly push me to experience new things. It was often only when people came to visit me in Chicago and were in awe of what the city had to offer, that I would appreciate how fortunate I was to live there. I'm hopeful my enthusiasm for Fort Collins and Northern Colorado will have the same effect on you.
I hope my posts will appeal to both those visiting Northern Colorado who want a "local" experience vs. the "tourist" experience, and also you residents who need a little nudge to get out there and take advantage of all this region has to offer – or at the very least keep your most memorable moments from always happening on your Tivo.
So, here I go. I look forward to your comments and suggestions. Is there something you've always wanted to do in the region and haven't got around to it? Are there must-see, must-do activities you recommend? What's on your top 10 list? Otherwise, my roommate Mandy really wants me to write about the plight of small dogs in an apparently big dog town…please don't let it come to that!
Sometimes, it feels as if there are not enough hours in the day. I particularly feel this way after a long day at work, or a busy weekend full of housework and errands. And when this happens, I usually find myself lounging on the couch for hours watching the television. I'm glad to have some rest, but still feeling slightly unproductive. Though I can be running around for what seems like all day, when I finally get free time I sometimes wish I did something for me, something I truly enjoy. It's a feeling that I desire that I am not sure HGTV completely provides.
Here in Fort Collins, we have so many opportunities to pursue our interests. And it is well worth taking advantage of these opportunities. Doing a quick Google search on "benefits of hobbies" generates tons of articles, all praising the positive aspects of pursuing our interests. You can probably imagine what the list might be: hobbies reduce stress, lower blood pressure, stimulate brain activity and thus improving memory and concentration, and simply just have general health benefits. And there are many things you can do to receive these benefits, whether you enjoy nature, art, music, or crafts.
For me, I feel like I am improving myself every time that I learn something. The knowledge that comes from even the smallest things, like learning about a new animal in one of our natural areas, make me feel like I have accomplished something. It is important to always be challenging ourselves to do new things, and learn new things. Working your mind is not just about being healthy; it is about feeling enriched personally. So when you think about your "me time," when you do get it, what do you do that is really for you? And let's be clear, checking email does not really count as a hobby, though it can keep you in touch with friends and family. Doing what you love is essential, and being able to use your time outside of work to explore those things that you love is very rewarding.
On March 1, the City of Fort Collins released the Spring 2010 Recreator, a comprehensive guide to recreational activities in Fort Collins. Here you will find ways to engage in whatever it is you love, from sports to arts to cooking to pretty much anything else you can think of. Special programs are available for youth and seniors as well. At the moment the Recreator is only available online, but you can begin signing up for classes on March 11.
While the Recreator will give you more than enough classes and activities to fill your time, there are many other opportunities to suit your needs throughout Fort Collins. It is all a matter of looking and asking. Art galleries and studios often hold their own classes (the Center for Fine Art Photography, for example, holds regular workshops and the Colorado Coalition of the Arts has a lecture series). Depending upon your interests, you can call up a group associated with your field and it is likely that they will have class, workshops, lectures, and events available (Try the Northern Colorado Writers Studio if you're literary or the Gardens on Spring Creek if you are into cultivating). With just a little research, you can find groups that love the same things as you do. This is another way that we can be enriched by our hobbies: through community interaction.
I know the couch is tempting, and at times it is even necessary for a bit of relaxation. But we all need something that is our own, something that improves us and enhances us. What will you do to get out and explore your hobbies in Fort Collins? Spread the word about great classes and activities to get everyone involved!
How would you define diversity? It seems like a simple question, and I'm sure dictionary.com will provide a straightforward answer if you looked it up. But can one sentence or two really describe the vast diversity in the world today? How do we wrap our heads around the idea of multiple cultures? Considering the huge realm of cultural experience, understanding diversity becomes a daunting task.
However, it is not something worth ignoring. In our busy lives it can be hard to see the world from a perspective other than our own. Often we find ourselves interested in other cultures and wanting to know about them, but not always having the time or resources to do so. Then, all of a sudden, we see something like the disaster in Haiti and everything looks different. Our eyes open up to what is out there in the rest of the world, and we see ways in which we can interact and be helpful. Our response to needs around the world, when we are made aware of them, is outstanding. Being aware of diversity, even in the most unhappy times, can bring about positive things.
This weekend, Colorado State University is hosting the first annual Uhuru Film Festival, offering a chance to peer into different cultures and hopefully become engaged with them. This festival embodies diversity in all forms. Breaking traditional boundaries of film festival genre, the UFF presents a variety of art including documentary, fictional narratives, and shorts. Music and books are also being promoted, demonstrating that cultural expression is created through multiple mediums. And though the UFF features African artists, do not expect a one-sided view of
the African experience. A political activist couple returning from exile, a taxicab driver, an American seeking her heritage, and an Elvis impersonator are just a few of the characters that will be followed in the course of these films. In every way, the UFF shows us the diversity of human experience. Displaying them all in one weekend offers us a powerful way of learning about others and their lives.
I have always found film to be a powerful medium for both entertainment and education. The ability of a director to tell a story, so that the experience of the characters becomes so completely clear and relevant, has always inspired me in some way. But these stories are so real, and are so telling of a cultural experience, they really speak for themselves. Like a big news story from around the world, these tales reach out and ask us to open our eyes to the experience of another.
To kick things off for the UFF, Kenyan author Ngugi wa Thiong'o will be reading from his latest novel Wizard of the Crow at the Reader's Cove Bookstore this Thursday. It is a great opportunity to meet a world renowned author and hear a touching tale of cultural experience.
 Described as a "global epic from Africa," this novel deals with the rise of globalization, and how we are all living in a world that is getting bigger and bigger. Thiong'o understands that globalization potentially causes divisions in different cultures, a result of many factors including the simple fact of population growth. At the same time, however, technology has made it possible to reach across the globe in seconds, allowing us to be a part of other cultures quite easily. This gives us a chance to be involved in the lives of others.
"We are all connected," Thiong'o said, "we are each other's keeper no matter where we are or come from."
The many events presented by the UFF will certainly show us a new and powerful way of looking at other cultures. Once we learn about different experiences, we can see the many ways in which we can participate in dialogue, involve ourselves in aid, and ultimately make our vast and diverse world seem a little smaller.
Details on the Uhuru Film Festival:
When: Friday, February 5-Sunday, February 7, 10:00am-9:00pm (film times vary)
Where: Lory Student Center, Colorado State University
Cost:
Safari yote (entire event):$35.00 General public $25.00 Students
Siku moja (one day):$13.00 General Public $8.00 Students
Moja Pass (single film):$5.00 General public $3.00 Students
Full Schedule of Films can be found here at http://www.uhurufilms.org/index.html
Details on the Ngugi wa Thiong'o reading
When: Thursday, February 4, 6:30pm
Where: Reader's Cove Bookstore, 1001 E. Harmony Rd.
Cost: Free
Books are now available at the bookstore. Purchase before copies run out and get your book signed after the book reading.