Archive for the 'Downtown Business Association' tag
For some of us, dining out at a restaurant is a special occasion.  For others, it's a weekly event.  Whether we eat out rarely or often, we all like to find a deal in the process.  That's where Great Plates comes in!
Great Plates is organized by the Downtown Business Association in collaboration with 30 participating restaurant members.  From March 1st-14th, participating restaurants will offer unique specials for $25.25.  There are a variety of options to choose from – three course dinners, dinner for two, or dinner for five (five people!) – all for $25.25.  There are even some select ice cream and breakfast specials priced at $2.50.  Really, there's something for everyone during Great Plates.
As your favorite Fort Collins' restaurant critic, I've visited almost all of these eateries for reviews, and here are a list of some of the menus I'm most excited about.
Canyon Chop House three course dinner for one for $25.25:  soup or salad, entree choice of Rocky Mountain trout, prosciutto wrapped Colorado chicken breast, or boneless braised short ribs, with a dessert choice of warm walnut brownie served with Walrus peanut butter ice cream, or house-made sorbets.
Stuft – A Burger Bar dinner for four for $25.25:  includes (4) 1/3 pound "stuff your own" cheeseburgers, (4) handcut french fries, (4) New Belgium draft beers or soda.
Ingredient breakfast for $2.50: choice of fruit and yogurt parfait, house made doughnut holes or steel cut oatmeal.
Here's the entire list of restaurants and their Great Plates specials!
The fantastic part about this Fort Collins dining tradition is that not only is it a chance to visit one of the fabulous restaurants we have here in town, it's an opportunity to help our community members who need a little support.  For the fourth year, the Downtown Business Association is partnering with the Food Bank for Larimer County. $0.25 of each Great Plates dinner special will go towards the Food Bank.  In addition to the $0.25, restaurants will provide other opportunities for dining enthusiasts to donate.
The Food Bank for Larimer County can provide a meal for a member of our community for as little as $0.25, so when you enjoy a meal, you'll also be giving a meal!
So, go out and savor this delicious Fort Collins food event, and tell us what Great Plates special you're most excited about!
Post by Kristin Mastre, Fort Collins' premier food critic and writer of FeastingFortCollins.com
Attention Battle of the Burners contestants One through Five: meet Number Six.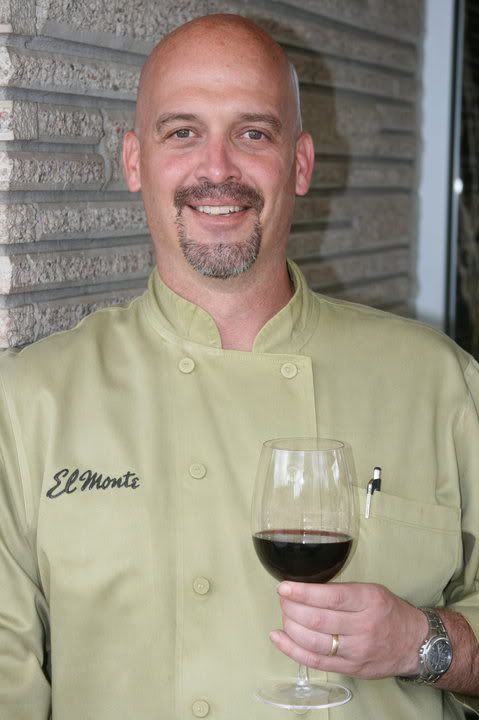 He won last year in the categories of Best Flavor and Most Creative Use of Ingredients. TripAdvisor reviews rate his restaurant #1 out of 266 area restaurants. He has 20 years experience in the kitchen, relishes a good competition and will be bringing his passion for exquisite flavor to this Saturday's Battle of the Burners. His advice to the other contenders? Bring Your Game.
I met Executive Chef Scott Manning at El Monte Grill and Lounge (www.elmontegrill.com). Talk about inspired cuisine and vision – his enthusiasm for food and sustainability is palpable. His numerology and astrology imbue him with superb instincts.
Scott's culinary concept is to create fresh, Latin-inspired dishes based on familiar classics. For example, his slow roasted pork entree evokes Tacos al Pastor, a common street food in Morelos, Mexico. His kitchen motto, "first, do no harm", demands the highest quality ingredients. No over-processing here; just showcasing foods as they are meant to be. He proudly serves locally sourced fare, describing a visit to Grant Farms (www.grantfarms.com) and his admiration of their methods.
Scott's own methods focus on sustainability. El Monte is 100% wind powered, recycles oil for bio-diesel fuel, composts, and recycles. It's one of only a few Colorado restaurants certified by the Marine Stewardship Council, acknowledging support of sustainable fisheries. Scott believes his practices make a difference and that the future will include more businesses doing similar things.
I can't talk about El Monte without mentioning its bar. As a big fan of Mad Men, I'm cheering its 50's era theme and artful mixology that incorporates fresh juices and herbs.
Oh, and one last note. Scott carves his own ice sculptures, too.
Bring your game.
A few months ago I wrote about my visit to the Masks at Moca exhibit. There was a particular mask called Lacking Enthusiasm by Rocky Mountain High School student Morgan Myers that stood out to me.  His description of the mask stuck with me these past few months: "Age may wrinkle the face, but lack of enthusiasm wrinkles the soul." The day I wrote the post, I was sitting in a coffee shop early in the morning and heard a customer say, "Another beautiful day in a beautiful city." My comment on the blog that day was, "There aren't many wrinkled souls here."
I returned to Fort Collins last Monday after four weeks in Chicago. I had 14 hours in the car (mostly in pouring down rain) to reflect on my time here in the past few months.  I've met so many great people, experienced many new things and learned quite a bit about myself. Since being back, I've observed how much Fort Collins truly comes alive in the summer.
About 20 minutes after I rolled into town, my friend Mandy and I were sitting at the Crown Pub having an early dinner. We immediately ran into Cappy, who is a fabulous bartender and one of the most pleasant people I've ever met. He is part of the reason The Crown Pub is my favorite place to go in Fort Collins. When I first moved here – he'd always put the Illini games on for me and told me a lot about Fort Collins. I also ran into some of the folks from Beet Street who have quickly turned into friends.
Here are just a few of the things I did in Fort Collins in my first week back…I think this list kind of sums up what it's like to live here – there is always something unique to do and residents are very involved in the community.
1. City council meeting, graffiti, Trailhead: I attended my first city council meeting in Fort Collins on Tuesday. Sales tax was being discussed and it was a packed house. My friend Doug was voicing his opinion, along with at least 30 other citizens of Fort Collins.  On the way  to the meeting, we saw an artist painting a large electrical box cover on Howes Street. It's part of the city's Art in Public places program, which is summed up nicely in this recent Coloradoan article.  Of course it wouldn't be a Tuesday night without a half price cheeseburger and a 90 Shilling at the Trailhead.  
2. Noontime Notes Concert Series: Tuesday as I walking through Old Town I heard someone singing and saw a large crowd gathered in the Oak St. Plaza next to the Fort Collins Museum of Contemporary Art. It was my first introduction to the Noontime Notes Concert Series that takes place there every Tuesday from 11:30-1:00. What a nice way to break up the day and enjoy your lunch. The singer was Colorado musician Kort McCumber.  
3. Ignite Fort Collins: Tuesday night one of my friends was presenting at Ignite Fort Collins. There were 14 speakers and each speaker had 20 slides that automatically advanced after 15 seconds. Part of the fun, was seeing how speakers reacted to the slides changing. The presenters and topics were very diverse. Here are a few: Becoming a blogger (courtesy of Kristen Mastre who writes Feasting FC and contributes to this blog), the anatomy of the harmonica (very funny BTW), reliance on foreign oil, being married to a gamer/compromise in marriage, some humor and education about composting. Some of the presentations were hilarious, some educational and some just downright strange, but it was never dull. Ignite Fort Collins happens four times per year, there are 300 people in the audience and I'm told it sells out every time.  I believe the next event is in September – anyone can submit a topic and it should definitely get you over your fear of public speaking.
4. I have wheels:  I finally brought my bike to Fort Collins. No offense to the flea market bike Saffron my friend Mandy was letting me borrow, but it's so nice to have a bike that doesn't wear me out in five minutes.  I took the bike out a few times this week. With all the rain that fell in Fort Collins, the river was really high and moving fast. It provided a great backdrop for my ride on the Poudre Trail. I was also supposed to go on a long bike ride with my friend Dave to get some exercise, but somehow our bikes led us to Odell's for Happy Hour with our friend Scott.  Oops…
5. Caffeine:So I've been trying to give up Diet Coke for the past few weeks – really the past few years, but I admit my previous efforts were pretty lame. I've never been a coffee drinker, so Chai Tea Lattes have been my caffeine substitute of choice. I enjoyed a really spicy one at the Bean Cycle yesterday. The owner there is so nice and always strikes up interesting conversations with customers.  I've also had a few at Mugs this week – which are really tasty.  While I'm on the subject of Mugs, a few months ago some friends visited from Chicago. My friend Jenanne had her one year-old son Owen with her. The owner of Mugs gave Owen one of the organic onesies they were selling just because he thought he should have it. It was such a nice gesture and really endeared this city to my friends.
6. Downtown Energy: Something I've really enjoyed since I've been back is the energy in Old Town. All day you can see kids playing in the fountains at Oak St. Plaza, there are street vendors selling hot dogs and the performers who are part of Streetmosphere make people want to stop and take it in.  At restaurants and stores yesterday, I was asked many times how I was enjoying the first day of summer. There's just a buzz downtown right now.
7. My first week back in Fort Collins was capped off at dinner with my good friend Noi at her dad's restaurant Hunan. I love the steamed dumplings and Szechwan chicken.
So what's on tap this week? Here's what I'm thinking…
1.  Today at lunch I am going to enjoy some jazz infused tango courtesy of the Austin Piazzolla Quintet, which plays in the Oak St. Plaza (Oak and College) from 11:30 until 1:00 today. Here is a concert schedule for the Noontime Notes Concert Series.  
2. Beer Week: I plan to take advantage of some of the Beer Week specials and head to the Colorado Brewer's Festival this weekend.  While I'm on the topic of beer, I'm embarrassed to admit I have yet to visit the Fort Collins Brewery. I love the beers, and since it is Beer Week in Fort Collins, I think it's time for a visit.
3. I also want to check out Lend me a Tenor at Bas Bleu – has anyone seen in?
4. Finally, I plan to head to the library for inspiration. My friend Tara is a librarian in the Chicagoland area and she always reminds me how much I enjoy the library. So, I'm going to start my day at the library one morning, do some research and see where it takes me for the rest of the day. I will capture the experience on the blog soon. By the way, I was just on the Poudre River Library Web site and saw speed dating and pirate events (thank goodness not together) – so if you haven't been to the library lately, it might be good time to plan a visit. Argh…
"It seems to me that our three basic needs, for food and security and love, are so mixed and mingled and entwined that we cannot straightly think of one without the others" – MFK Fisher, The Art of Eating
I love food. This isn't entirely surprising, considering that everyone at some point needs to eat. And possibly just as importantly, we live in a culture that facilitates bringing people together through food. It is a concept that has permeated American life since before the idea of family dinners at the dining room table even came about. Think about Thanksgiving: we have always been able to use food to provide not just for ourselves but for others as well; and we express kindness, thanks, and friendliness over such meals. Thinking about the many memorable times I have spent with family and friends over food, it is not surprising at all that I love to go out to eat so much. I am constantly dragging someone along to a place that I have never been to eat, so that I can not only enjoy good food, but share a new experience with another.
That is why each year I impatiently anticipate the arrival of Great Plates. Two weeks, 25 restaurants, and tons of unique appetizers, entrees, and desserts, all for a great deal. The nice thing about this event is it gives everyone an opportunity to experience what Fort Collins restaurants have to offer. While typically a meal out might only be possible every once in a while for my family, Great Plates offers such great deals that we really get to take advantages of places that we have never tried before, or places where just want to go to again. With so many restaurants participating this year, and even some downtown services offering great deals, you cannot tire of the possibilities.
If you have never participated in Great Plates before, it's really quite easy. All you have to do is show up at a participating restaurant, and there will be a specially priced menu there waiting for you. If you are like me, and you plan out these two weeks like a runner would a marathon, you can check out this year's offerings here. Then, call up your friends, your family, your significant other, and discover all the ways in which you can bond over great food in Downtown Fort Collins.
There is obviously something meaningful and special about spending times with the ones we love over a great meal, but the Downtown Business Association, who organizes Great Plates, is taking this idea one step further. The Downtown Business Association has a partnership with the Larimer County Food Bank, and both organizations go to great lengths to make sure that the joy of food can reach everyone. For example, Ben and Jerry's is donating 25 cents of every cone they sell for the Great Plates price, and giving it to the Food Bank. Even this small donation can provide a meal for someone in need-imagine what a few dollars or more might do. This year, restaurant-goers are encouraged to "leave the change" at your table when you leave. All of this extra change will benefit the Food Bank.
The bonding that takes place over a table of food is something that no one should be denied. With Great Plates, we have an opportunity to get together and enjoy what our town has to offer, but we also have a chance to share that experience with others who do not get such opportunities. Be sure to go out and support the Larimer County Food bank, the only food bank serving this county. That way, everyone can enjoy great food with great people.
For this entry, we would like to turn things over to our Executive Director, Ryan Keiffer. His latest column in the Coloradoan offers some great insights on how to become more involved in the arts- particularly through the 14th Annual First Night Fort Collins…
Check it out:  'First Night kicks off opportunities to enjoy arts in 2010′
For all the specifics on First Night, including Beet Street's Young Performer Academy, you can also visit the Downtown Business Association.
Wishing you happy holidays and a happy New Year!
There is something about holiday music that gets to me. I don't know what it is exactly, but the familiar lyrics and classic melodies that have remained popular for years truly brings about the holiday spirit. It also helps that most of these songs are about some of my favorite things: family, friends, celebrations, great memories. And really, who doesn't love all these things? Whether you're a classical music person or a rock fan, you know and probably love these songs.
So I think it's perfectly acceptable to spend a little too much time at the "Holiday Music" rack at Best Buy. I am also okay with trying to hit the high notes of "O Holy Night" in my car because I know that the person sitting next to me at the red light may laugh, but still understands.
I was very pleased to find out that the Fort Collins Downtown Business Association and the Choice City Singers also get my need to express my holiday spirit through song. This Friday they are hosting the 18th Annual Carolfest. All ages are welcome to meet at Opera Galleria (123 N. College Ave) at 6:30pm, where they will be supplied with lyrics and lots of mutual holiday cheer. From there, the group will walk through downtown Fort Collins singing timeless Christmas carols. It's a great way to be actively involved in creating a special holiday experience for yourself and others.
If the thought of having an entire town hear you sing frightens you, there's no need to worry. Not only will you be a part of a group of singers of all ages and abilities, you will be led by professional carolers, the Choice City Singers. You can sing to your heart's content without the stress of stage fright, and with the comfort of knowing you are in good company.
Though we have different memories and experiences associated with these familiar songs, it likely that we all recognize the role holiday music plays in bringing out the holiday spirit. So come out and sing at Carolfest, or enjoy one of the many other musical events happening in Fort Collins this season, like:
–Larimer Chorale: Sing Choirs of Angels, Dec. 11 and 13 at the Lincoln Center
–Instrumental Choirs Holiday Concert, Dec 3 at the University Center for the Arts
–La De Da Theatre presents a Musical Christmas Carol, December 17-20 at the Lincoln Center
–Music of the Season featuring the Rocky Mountain Barbershop Quartet, December 9 at the Harmony Library
-Irving Berlin's "White Christmas: the Musical," through January 2 at the Carousel Dinner Theater
Slowly but surely, we are saying goodbye to fall. The brightly colored leaves have all fallen, and the buzz amongst Fort Collins' students has moved from midterms to finals. And though the skies have been relatively clear for the past week or so, it is unmistakable that winter will soon be in full swing. And what better way to celebrate the new season than by enjoying the transformation of our own Old Town into a winter wonderland.
Even through the coming cold, it is nearly impossible to resist the festive spirit emanating from downtown Fort Collins. It began with the lighting of the trees- now the streets sparkle with thousands of little white lights. Holiday decorations highlight the already beautiful architecture in this historic area. On any given day or evening in Old Town, all you have to do is take a look around to get into the holiday mood.
But the Downtown Business Association, with the help of the Fort Collins Parks and Recreation Department, have turned Old Town Square from a spectator's scene into a true winter experience with the opening of the Old Town Ice Skating Rink. From now through the end of January, the rink is open at the north end of Old Town Square.
The outdoor rink is much different from your typical indoor hockey arena. When you are skating on the ice outside, it feels like you are on your very own backyard lake. The views of downtown Fort Collins that surround you, the lights, the decorations, the community gathered to celebrate the holiday season, only add to this experience. Bring your family, a friend, a date- no matter who you bring, it will be the perfect way to start off the winter season.
The Old Town Ice Skating Rink is open for varied hours throughout the holiday season, which you can look up here. The rink is just one part of a series of holiday events presented by the Downtown Business Association. While you enjoy an ice skating experience, you can also take a horse and carriage ride, visit Santa and his workshop, or take advantage of extended holiday shopping hours.
This Friday, the "official" start of the holiday season, you may have to run out to the nearest mall and get some of that shopping done. But when you are finished, or if you need a special gift that can only come from one of Fort Collins' independent shops, make sure you experience all the unique activities that downtown Fort Collins has to offer this season. It is a winter wonderland that you cannot find anywhere else.
A few years ago, I attended a conference in Chicago and for part of the morning, a group of us walked in pairs through the streets, one with their eyes closed, and the other, well, making sure they didn't fall over. We were listening to the sound of the city and after each of our turns, we would write notes about what we so intently 'heard', the sounds that make up space and in turn, create place. I will never forget the sound of stilettos on a marble floor inside a large atrium. As we move through space, we fill it with musical notes of our own. Our own little community symphony. Next time you're sitting still or even walking with someone, try it. Close your eyes and listen to the music of place.
Now, if you were lucky enough to see the Laser Harps at this month's Imagination Fair, then you have
probably already experienced the ways in which our movements in space also interact with waves of light to create particular sounds and forms of music. At the North Carolina Museum of Life and Science, they have a soundSpace, where people can "…'play' the room as if it were a musical instrument" as Scott Lindroth, Associate Professor of Music at Duke University puts it. The more you move in the space, the more the music comes to life as your movements are captured on web cameras positioned around the installation. Such an interactive installation adds new meaning to composing live performances in an unusual amalgamation of dance and music mutually creating each other. For a wonderful video on how children respond to such a space, see below.

As you've probably guessed by reading this far, there is an intimate relationship between sound, space and place, not to mention who we get to be through, in, and with them all.
This month, the place in which we live — here in Fort Collins — will reverberate intensely with many different kinds of sounds and understandings of space and place as we welcome a series of artists and scientists to our community. A few blogs back, we posted a video of Wynton Marsalis, jazz artists extraordinaire performing The Ballad of the American Arts at the 22nd Annual Nancy Hanks Lecture on Arts & Public Policy and taking the audience on a historical ride of cultural identity as performed through jazz. Jazz, as a musical form, has proven hard to define and even harder to agree upon in terms of its pedigree. Still most jazz critics and scholars agree on some critical characteristics of the music and the artists that produce it, such as the importance of improvisation, its ability to absorb and transform influences, its special relationship with time (the 'swing' rhythm),  its fundamentally democratic creative nature in terms of the freedom given to performers to add their own 'touch' to a piece of music, and its grounding in collaborative, group interaction. Jazz spans a wide range of styles and continues to evolve in rhizomatic fashion due to these fundamental characteristics and the influences of those who play it as well as the places from which they come. You could say that jazz as a particular sound creates a space that many from diverse places can share.
From July 9-11, The Fort Collins Jazz Experience, hosted by the Downtown Business Association, welcomes the Ramsey Lewis Trio and Al Jarreau to our community. The Ramsey Lewis Trio will kick off the event at the Lincoln Center Performance Hall on Thursday, July 9 from 7:30pm with Al Jarreau following two nights later on Saturday, July 11 at the same location but starting at 8pm. Ramsey Lewis of course, is known as "The Great Performer" — a jazz icon, composer, pianist and radio personality while Al Jarreau is the only vocalist in history to win Grammys in jazz, pop and R&B. I am looking forward to hearing him use his voice as several diverse instruments!
Speaking of diverse instruments, on July 25, Doc Severinsen and El Ritmo de la Vida roll into town to
bring us their own unique compositions featuring Doc on trumpet (he's a virtuoso trumpeter and for a long time was the musical director of Johnny Carson's big band on the Tonight Show as well as playing in major orchestras throughout the US and Canada), Gil Gutierrez on guitar and Pedro Cartas on violin. For a taste of what is to come in what has been called an 'electrifying display of their virtuosity and blending of instruments', click here. Doc and El Ritmo de la Vida will be at the Lincoln Center Performance Hall on Saturday, July 25 at 7:30pm. This trio got together when Doc visited Mexico thinking about retirement. Instead, he says, "…when I heard them play I knew that I would be playing with them for some time to come. Latino music, along with the blues, has always been among my favorites, and Gil and Pedro do it along with a European style that I love and so do our audiences." The place of Mexico, opened up a new space for a new sound for all!
In between both these magical musical events, we have an equally enlightening discussion of life in space by Dr. Bob Phillips, Former NASA Space Station Chief Scientist at July's Science Cafe on July 15 from 5:30pm to 7pm at the Stonehouse Grille. As usual, this event is free and will present some of the changes that occur in space flight and how and why we change form, function and behavior to accommodate this strange new environment. Dr. Phillips trained as a veterinarian and holds a PhD in physiology and nutrition. His life story and how he came to be involved with NASA and become an in-flight researcher on the first dedicated Biomedical Research Space Shuttle flight as well as how these experiences have fueled his work with NASA's Life Science Education and Outreach program should make for a fascinating evening. We look forward to seeing you there, and please feel free to post a comment with any feedback you have from the evening!
Sound + Space = Place. Here's to a wonderful July in Fort Collins and Northern Colorado!
Kirsten Broadfoot
This is my favorite time of the year. I know I blogged earlier about festivals and summer but just this week, I have noticed a whole bunch of new cultural sprouts popping up in the community so I thought I would start with what I have seen around and then if you see some others, you could post them too and spread the word!
This weekend, Opera Fort Collins presents Il Trovatore or The Troubadour, at 7:30 pm on Friday and 2 pm on Sunday at the University Center for the Arts (Griffin Concert Hall), on Remington Street (which is a fabulous building by the way!). Tickets are $30/$40; $20 for CSU students and children ages 18 and younger. For more information, call 221-6730 or go to www.lctix.com.
If opera is not your thing, how about some Jane Austen? OpenStage Theatre kicks off their run of Pride and
Prejudice (one of my all time favorite Austen books) at the Lincoln Center mini-theatre this weekend. There's been many a movie based on this storyline and representing this storyline — who can forget Colin Firth as Mr Darcy! Ok, now I am showing some prejudice of my own! For more information about Pride and Prejudice, performances please visit OpenStage Theatre & Company , or for tickets please visit Lincoln Center Box Office.  Don't forget that this week is also your last chance to catch OpenStage's presentation of The Maiden's Prayer by Nicky Silver which runs Friday and Saturday at 8pm with their final matinee performance Sunday May 24 at 2pm. The Maiden's Prayer is at the Center for Fine Art Photography: Black Box at 44 N. College Ave.
Finally in May, over at FCMOCA , they are hosting "Fort Collins Collects" from May 22 through to July 18. This exhibit runs in the main gallery and is joined in June by Joseph Rafael in the Mezzanine Gallery for a run through the rest of summer. If you need an art fix more frequently, don't forget that FCMOCA also hosts  "start your lunch break with an art break" every Wednesday at 12:15pm sharp where you can join a 15 minute guided talk about some of the objects on display. Don't say we don't try to inspire you!
As you know, June kicks off with Imagination Fair June 5th with That 1 Guy and Laser Harps and will take
place in two locations in Old Town — Oak Street Plaza and Opera Galleria. In conjunction with the Imagination Fair, but separately presented, Laurie Anderson will perform her Burning Leaves show at the Lincoln Center on June 6, which will be outstanding! If you haven't got your tickets yet, click here! We're fighting over who will get to go and review her show!
The next weekend is one for the younger members of our community and kicks off with the Fossil Creek Park Bicycle Festival, featuring kids' bike games, bike rides, food and all manner of cycling shenanigans! The festival runs from 11am-4pm. On Sunday, June 14, the Fort Collins Regional Library District presents A Victorian Sunday in the Park — an afternoon of music, song, vintage games and crafts, and historical bicycles, all provided by the Fort Collins Museum and Discovery Science Center and their friends, in the historic cabins of the museum's courtyard.  Bring your lunch as the afternoon's fun starts at 12 and goes til 4pm! Or you might pop over to the Taste of Fort Collins event in the Civic Center Park beforehand and
pick up some tasty treats to take to the picnic! There's food (of course), music, kids games and tons of fun there too…. All in all, an excellent weekend to get out and see what we have at our fingertips in the community!
Right on the solstice, when Spring becomes Summer on June 20 and 21, the Fort Collins Irish Festival
arrives in the Civic Center Park for the weekend  and the Father's Day 5k Run/Walk to benefit Northside Aztlan Community Center Youth Programs. The run starts at 8am with registration from 6:45-7:45am in Old Town Fort Collins. The Irish Festival has a special gift for the first 300 dads to enter its gates as well! Fun for the whole family!
Then, just in case, you haven't had enough fun already, June 27 and 28, is……that's right! Colorado Brewer's Festival!!! Get ready! Proceeds from the Festival help to fund the Lucky Joe's St. Patrick's Day Parade, Santa Claus, The Holidays Downtown, free summer concerts, and the 4th of July Downtown. This is a reason in and of itself to attend, but in case you need some more persuading…. there will be music, 50 different Colorado beers, food and fun from 11am to 6pm on both days!
Phew! That's what I have got coming up! If you have any other information on events in the community that you would like to share, please feel free to add them here in the comments and we can send out the word!
With appreciation to Roger Smith, sarako and oschene for their beautiful images!
Remember – art is part of everyday life!
Kirsten Broadfoot
Recently, Rachael Ray's magazine, as part of a feature they will be doing on the best places to eat in Fort Collins, contacted the The Silver Grill here in town. After conversations with writers and photographers, The Grill mailed the magazine folks in New York City a selection of their cinnamon rolls. 
That's right! We're talking about the (in)famous cinnamon rolls of The Silver Grill in Downtown Fort Collins, which is now 75 years old! As an avid supporter of Great Plates, long time Downtown Fort Collins resident and our very own slice of Americana, we thought it would be a good time to catch up with what exactly keeps the Silver Grill at the top of the list of places to eat when visiting Fort Collins. We contacted The Grill to learn a little more about what makes that place so special. Johnny Arnolfo the owner, describes the Grill as "…the Café that everyone remembers in their hometown where they grew up.  Our clientele runs the whole spectrum, from 'Blue Collar' to 'White Collar'  to business people to students; but especially the locals and visitors to the area." Here's what else he shared…..
The Silver Grill was opened on October 28, 1933 by Flossie and Millie Widger. Johnny attended CSU in the early 70's and would frequent the cafe. On February 14, 1979 he bought the cafe from Pete Widger, the son of the owner as he loved the history behind the Silver Grill, and it was small enough for a young man to learn the business. At that time, the Grill occupied 1 building, had 8 employees and sat 40 customers. 30 years later, the Grill spreads over 5 buildings, has 50 employees and seats more than 180 guests. It also has an outside patio!
Now Old Town hasn't always been the way we know it today. When Johnny bought the Silver Grill, Old Town was "an area of transients, bad bars, and in poor disrepair…it was not a place where a person wanted to go." But they persisted, enduring tough times and when Old Town Square was developed, people saw what the place could be. As Johnny puts it, "it was through the vision of a small few and perseverance by many that has made Old Town what it is today."
So next time you have folks in town, take them for a stroll downtown to experience the art, energy, food and good times of Fort Collins. Remember those who weathered the storms of Old Town's journey and continue to sustain our community and health….. and don't forget that slice of Americana….
Viva Fort Collins!
Thanks for the great pictures from Novello Image Photgraphy, another local company in Old Town.
Kirsten Broadfoot