Archive for the 'Hanami' tag

<![endif]-->

<![endif]-->
If an artist sings deep enough, he takes you to the frontiers of your soul.

—Wynton Marsalis, 2009 Nancy Hanks Lecturer
How can I be me without allowing you to be you?
After our month of finding home and discussions of art, identity, history and community, I was reminded of Wynton Marsalis' lecture and performance of The Ballad of the American Arts at the 22nd Annual Nancy Hanks Lecture on Arts & Public Policy earlier this year. For Marsalis, the arts tell us who to be, and throughout his lecture, he discusses how American virtuosity rose from its diverse class roots to show us that who a person is, is always more definitive than what a person is.
Marsalis also asks us to assess the value of an artistic heritage, arguing that music, as does all art, carries memory and therefore, meaning. Spirituals, and their singing, for example, give community a purpose, making people believe and providing them with a home. Tracing an entangled social and artistic history through many of the turning points of emerging cultural identity and progress in the US, Marsalis provides an inspiring, enlightening and humorous portrayal of a people's struggle through and for their artistic heritage.
Just as our arts call to us on a very deep, spiritual, emotional and physical level, so do our festivals. I never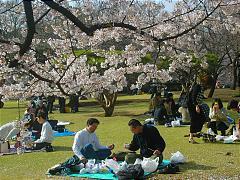 really understood the power of a good festival until I lived in Japan. As I watch the cherry blossoms bloom over the last few weeks, I am transported back to celebrating Hanami, which for me, always indicated Spring had arrived. Hanami (flower viewing), involves gathering with friends and family wherever the trees bloom to feast into the night. There are processional walks through larger municipal parks and the flowers provide an opportunity to reconnect with the community after the winter and renew people's spirits.
Summer and early Fall though, is real festival time. There is barely a weekend without some deity being celebrated at local temples where everyone gathers in the warm evening air to eat, drink, pray and come together. Some of my most powerful memories of Japan involve the smell of grilled mochi, yakisoba and teriyaki from the festival stalls, shaved ice drinks for walking with the processions, the smell of incense which clouds the temples, wearing yukata and the dark, dark blue of the sky against the brightly lit paper lanterns which swing in the evening breeze.
One of my all time favorite festivals is the Kurama fire festival, one of the three most famous in Kyoto. In
the evening, watch fires are lit at the entrances to local houses in this little town, and at 6:00 in the evening, the town is lit up with torches carried by children. Soon after that, the local people, wearing straw warrior sandals, parade through the streets carrying larger and larger torches, including the great torch weighing near 100kgs, and yelling along the way until they gather at the sacred precincts of the shrine. Two portable shrines are hoisted on shoulders amid the sparks from the torches. It's spectacular, primal and communal and it connects you to past and present experiences of home in extraordinary ways.
If there are no good fire festivals, cherry blossoms or temples near you though, how about a pillow fight and/or neighborhood party? Believe it or not, April 4 was World Pillow Fight Day. Next year we need to get Fort Collins on the map for this event. If Boulder can do it….you get the picture…Follow the link above for a how to guide!  For something on a smaller scale, we had the pleasure of attending a friend's neighborhood party this weekend, a pot luck affair where complete strangers brought an international dish to share with everyone that lived in the area. The weather was not great and a group of people completely unfamiliar with each other found themselves thrown into a kitchen and conversations. What was most astounding though, was how quickly friendships and community connections sprang forward so that after three hours, a new set of friends spilled back out into the neighborhood, brought together by food, drink and small children bringing a piñata to its knees. Imagine if as a community, we all decided to have a 'neighborhood party weekend' and every neighborhood held a party simultaneously. Makes you wonder what would happen with the collective consciousness (there have been studies connecting collective community meditation and a simultaneous reduction in violence in large metropolitan areas, you know).
Through song, nature, history and food, we reconnect with each other and realize how we need each other to live to our fullest potential as individuals and as a group. As we march through spring and into summer, how can we hold onto the conversations started in our 'finding home' series? What new promises can we make to take different routes around our community and explore the hidden gems of where we are? What diverse cultural contributions can we celebrate and bring into our 'homes' for our children? I'm going to the Museo de las Tres Colonias. Where are you headed?
Remember – art is part of our everyday life.
Kirsten Broadfoot